If anybody's made a comeback, it's been Matt Ryan's interpretation of the iconic John Constantine. Ever since the solo Constantine series was canceled by NBC in 2015, Matt Ryan has continued to be associated with the chain smoking blonde demonologist and "master of the dark arts". He voiced the character in Justice League Dark (2017) and even made a notable cameo in Season 4 of Arrow (which some may argue was the best episode in an already tired and contrived season). He revisited the character in the recent season of DC Legends of Tomorrow repeatedly as he helped the team with their battle against the imprisoned time demon Mallus. Coming off the heels of the news that John Constantine would be a cast member on Season 4 of Legends, CW Seed announced the premiere of Constantine: City of Demons, a 12-episode series set in the same universe as Justice League Dark. The first 5 episodes were released on CW Seed on March 24th.


After watching the first five episodes, there is no doubt in my mind that Matt Ryan is perfect for the part of John Constantine. Whether he's battling his inner demons come to life (seriously), talking with Chas at the pub or battling forces that would drive any man to death by alcoholism, Matt Ryan plays Constantine with that iconic snark, cynicism, and regret with just a dash of muddled heroism. While I am disappointed to see no immediate connection to the 2015 Constantine show especially regarding Chas and his family, writer J.M. DeMatteis known for his work on Spider-Man and Justice League International still tells a story that only could involve John Constantine. When Chas daughter is stricken with a mysterious that doctors can't solve, Chas turns to his old friend who discovers this little girls condition is anything but a common cold. His investigation into the matter gets dangerous and near fatal but that's a normal day in the life of John Constantine. Even though the cast is small, DeMatteis gives everybody real roles to play, especially when the series explores John's origins and the incident at Newcastle that would forever change his and Chas' life. That incident faithfully retells the story while walking the balance between the unflinching darkness that the Hellblazer series at Vertigo was known for with the acceptable limitations of present day animation. Near the end of this first group of episodes, Constantine finds himself in L.A. agreeing to help a demon lay off his satanic competitors in exchange for Chas' daughter's life but there's no doubt in my mind that either party will honor their deal in the end.
Although these episodes are too short to really fill the void or unanswered questions Constantine left behind in 2015, it's always good to hear that lighter pop and hear John Constantine's voice over a stream of cigarette smoke. In the DC universe, he's the guy you talk to when you can't find Doctor Fate, Zatanna, Swamp Thing or any of the other hardcore magicians when things are taking an infernal turn for the worst.  My final thoughts are that I'm liking what I'm seeing so pour me another round, give me a light and let's get weird in the City of Angels. I'm betting on you John, hell or high water.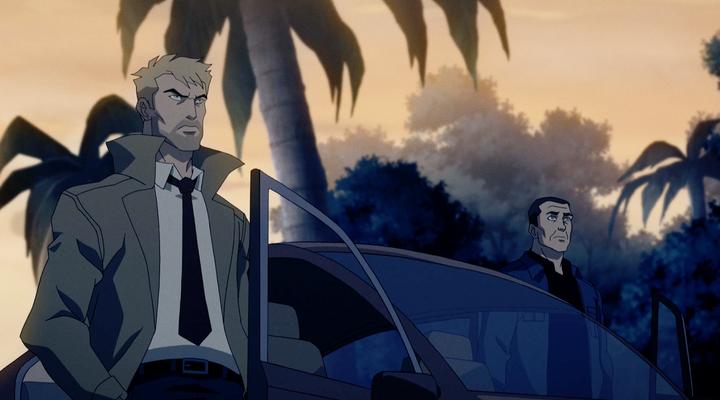 Grade:
Constantine: City of Demons (Part 1): B (solid and worth checking out)