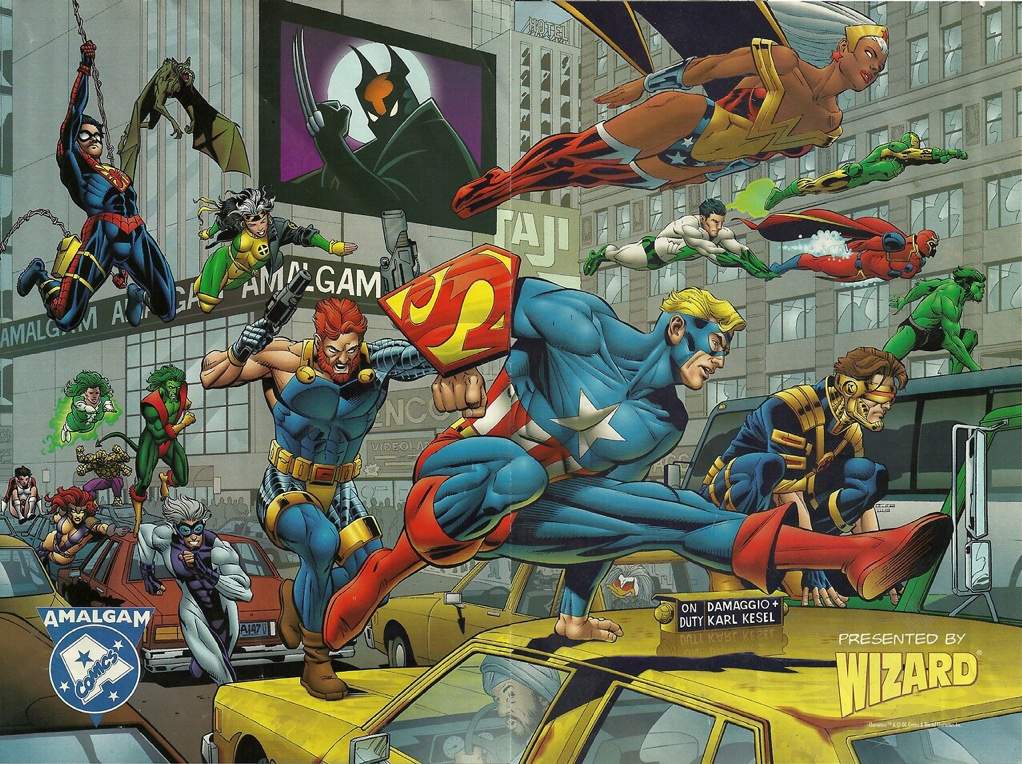 Comic books are a creative format where writers and artists can tell stories with fictional characters in a variety of ways. While there is a constant mainstream continuity within either DC or Marvel, that hasn't stopped creators from contemplating different stories; hypothetical different outcomes of important comic events, roads not traveled by for classic characters or new characters put in new, unfamiliar scenarios. At DC Comics they were called Elseworlds in the 1990s and Marvel called them their What If's. Although both formats had a variety of successful creators telling stories, the latter have been stories told in brief formats with decent success. As a Marvel fan, I've noted or read of these stories online but my interest has never gone beyond that; a brief synopsis seemed cool enough to note but not actually own. Marvel seemed to have better success with such story-lines as the 2099 universe or the Ultimate Universe in the past but its latest mini-series dubbed Infinity Warps not only connects to the upcoming Infinity Wars event but also continuing Marvel's What If story-lines in a new refreshing fashion.

Infinity Wars ( not to be confused with the 1995 Infinity War sequel to 1993 Infinity Gauntlet) is the upcoming Marvel event dealing with the reemergence of the Infinity Gems which readers have not seen since their use in 2015's Secret Wars and the conflict that comes with those that wield them. While this story-line has been connected to Wolverine's surprise resurrection, last seeing dying in 2014, the use of the Reality Gem may be responsible for these Infinity Warp story-lines which mash up two distinct Marvel characters to be one.
Already two miniseries have been announced : Infinity Warps: Iron Hammer, an Iron Man/Thor mashup by Loki: Agent of Asgard/ Ultimates writer Al Ewing and artist Ramon Rosanas; and Infinity Warps: Soldier Supreme, a mixture of Captain America and Doctor Strange by Infinity Countdown/Deadpool writer Gerry Duggan and Avengers/Champions superstar artist Adam Kubert. Although both series are only two issues, concept and cover artist Humberto Ramos, one of Dan Slott's collaborators on Amazing Spider-Man, Mike Carey's X-Men, etc, has teased on his Twitter that there are a few other collaborations on the way.
Now some may see this short format of two issues to be nothing worth noting but one may recall that Spider- Gwen started off as an issue in the Edge of the Spider-Verse and its success earned her an individual mini-series. Although these mash-ups probably caused by the Infinity Gem may prove to be temporary, it shows that Marvel still has some creativity playing ground to work within. These mashups remind me of the Amalgam Universe which spun out of 1996 DC vs Marvel which gave us some of the best mashups of classic characters that we've ever seen. These mashups over two very different characters could create interesting clashes of personalities from what we know but overall, I really can't wait to read that Ghost Rider/Black Panther mash up when it hits the store. Considering that Marvel could use some good news since they've taken quite a bit of criticism lately, this deviation from an possibly uninteresting story-line sounds fun and worth looking into. I guess sometimes you can teach a dog new tricks.