With Ant Man and the Wasp only two days away, I thought some recommended reading might help those who want to be familiar with Marvels tiniest heroes before they drop on the big screen. Now these are only a few of the stories out there since Ant-Man and the Wasp's debut in Tales to Astonish #27 and #44 in the early 1960s or Scott Lang's debut in Avengers #181 at the end of the 1970s but hey you gotta start somewhere and these I thought were some of the best introductions.
1. Ant-Man: Scott Lang: This collection has a lot of the early appearances of Scott Lang as Ant-Man. You can see him working alongside other Marvel heroes such as Iron Man, Fantastic Four, the Avengers and Spider-Man. Lang would later play an important role in the Armor Wars story-line but this collection highlights two story-lines that will be explored in this upcoming film. One story had him assisting Yellowjacket (Hank Pym) to rescue the captured Wasp and another had him working alongside the FF to journey toward a "micro-world" where he would assist the famous family in battle with the forces of Doctor Doom. Both the rescue and journey to a micro-world aka the Quantum Realm are important, but this collection shows how Lang interacts with the other heroes in the Marvel Universe. Considering both Ant-Man and the Wasp will be appearing in the Avengers: Infinity War sequel in 2019 and that Scott Lang would eventually be an Avenger in the comics, reading up on how the groundwork for such relationships began may be good for anyone still unfamiliar with the size altering hero.
2. Shadowland: Thunderbolts: While this Luke Cage assembled Thunderbolts, a team of criminals forced to work together for the common good, had their own specific missions, the movie's villain Ghost was among their members having served previously on Norman Osborn's Thunderbolts before betraying him during Siege. Issue #151 offered a possible origin story for Ghost, specifically who he was and how he became to be. Tragic and brutal, this possible origin for a blank slate in the Marvel universe is interesting to say the least of a character who began as an Iron Man villain. Although actress Hannah John-Kamen's interpretation of the character will be unique to itself, this character and its evolution from a villain to an anti-hero with good intentions is great for anyone unfamiliar with this obscure character.
3. Ant/Man Giant Man: The Man in the Ant Hill: Before Scott Lang, there was Dr. Henry "Hank" Pym and his wife Janet Van Dyne aka Ant-Man and the Wasp. Although co-creator Stan Lee said that it was a struggle to find place for Ant-Man in the Avengers at times, both characters were established in Marvel's Tales to Astonish series and later as founding members of the famous superhero team. During their brief membership, Ant-Man would switch identities, the first of many changes in Hank Pym's career, to Giant Man. Although Hank and Janet's time as both characters have clearly passed since their introduction in Ant-Man (2016), video footage of both in action proved they were quite the formidable team. As one of the main plot points deals with the attempt to rescue Janet from the Quantum Realm, familiarity with Hank and Janet during the Golden Age of Comics might be a nice trip down memory lane while also seeing how far comic book storytelling has come since then.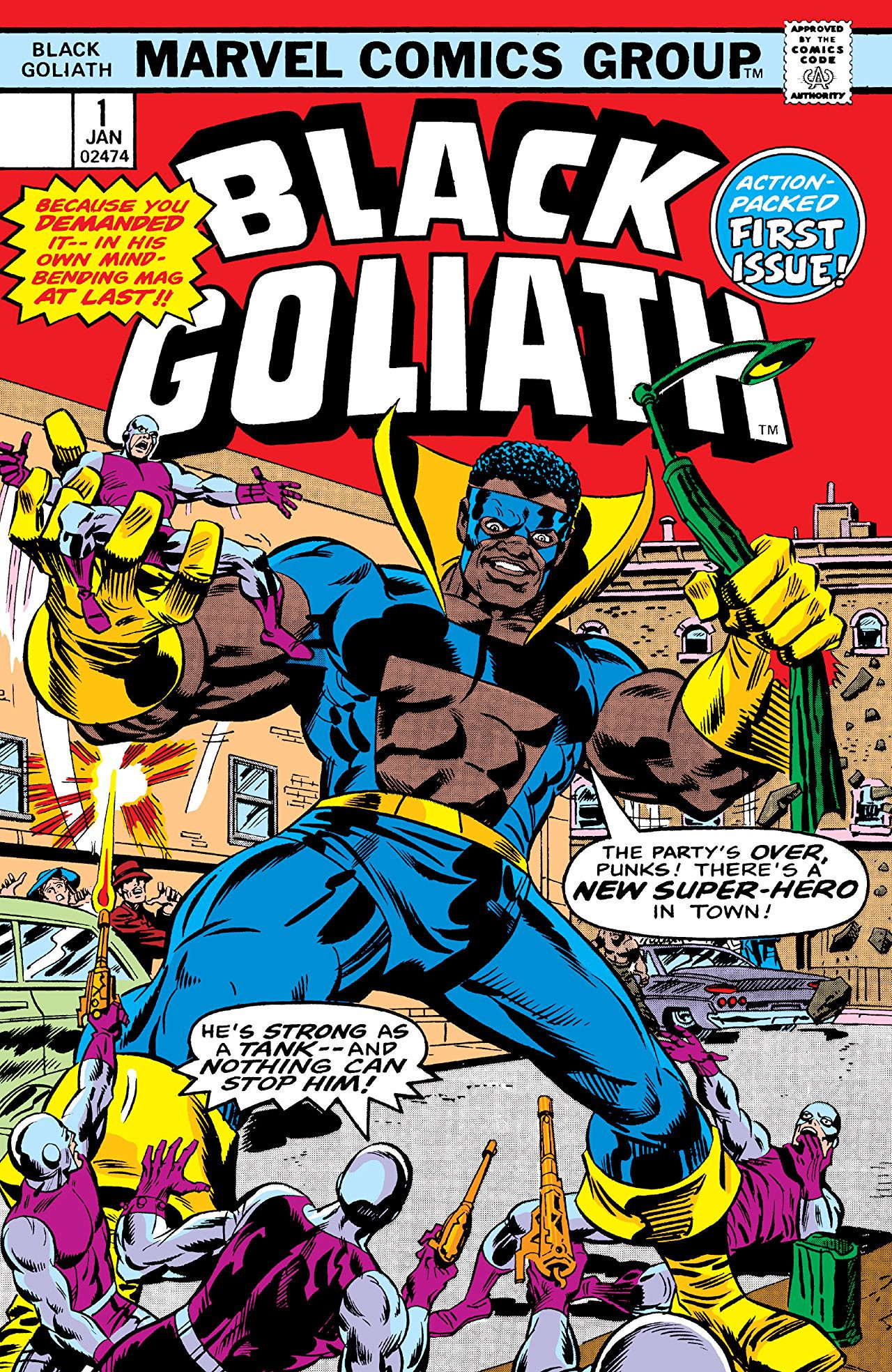 4. Black Goliath #1-5: Bill Foster was originally introduced in Avengers #32 as Hank Pym's lab assistant but it wasn't until Luke Cage: Power Man #24 that he became known as Black Goliath. Dr. Foster moved to the West Coast where he was able to crack the formula to Pym particles which gave him similar powers to Giant-Man. Taking the name Black Goliath, he fought a variety of villains while working alongside other heroes like the Champions, the Defenders, and the Thing. This short-lived series was unfortunately published at a time when there was a paper shortage meaning Marvel had to cancel any low selling series almost immediately. Fortunately, Bill continued to make appearances in Marvel Two-In-One and eventually became a member of the West Coast Avengers before losing his powers. With Lawrence Fishburne playing the role of Bill Foster in the movie and the mention of project Goliath,  we could be seeing another Giant-Man in the MCU future so brushing up on his history might be helpful.
5. Astonishing Ant Man: Trial of Ant-Man: There have been a few Ant-Man series since the characters debut in the 1960s and Nick Spencer's run of Astonishing Ant Man is the latest but by far one of the more successful fan favorite series. Balancing the popular consensus of the character from the MCU movies with the humor and wit he displayed in the Superior Foes of Spider-Man, writer Nick Spencer puts Scott Lang in a tough situation and just turns up the heat. When Darren Cross, Crossfire and company kidnap his daughter Cassie, Scott must enlist the help of villainous co-workers to break into Darren's company and save Cassie. After the battle, Scott is arrested for his participation in the matter and for violating his parole and he sits in jail awaiting trial. Caught between a rock and a hard place with limited options, Scott's situation has certain parallels with the predicament's Paul Rudd's Scott Lang faces in the upcoming movie. He is under house arrest because of his choices in Civil War which have resulted in greater tension between him, Hank, and Hope. He wants to be a good father to Cassie but can't deny his responsibilities as Ant-Man even when those decisions make his life even more difficult. I'd say Nick Spencer's good but short series Astonishing Ant Man is a great read for modern readers who want to get into comics but don't have the time to invest in years of continuity.
So that's some of the great Ant Man and Wasp stories out there so if you like them and want to read more of Scott Lang, Hank Pym, and Janet Van Dyne's adventures, go check our your nearest comic book shop or book store. Until then, keep it real and watch out for seagulls.