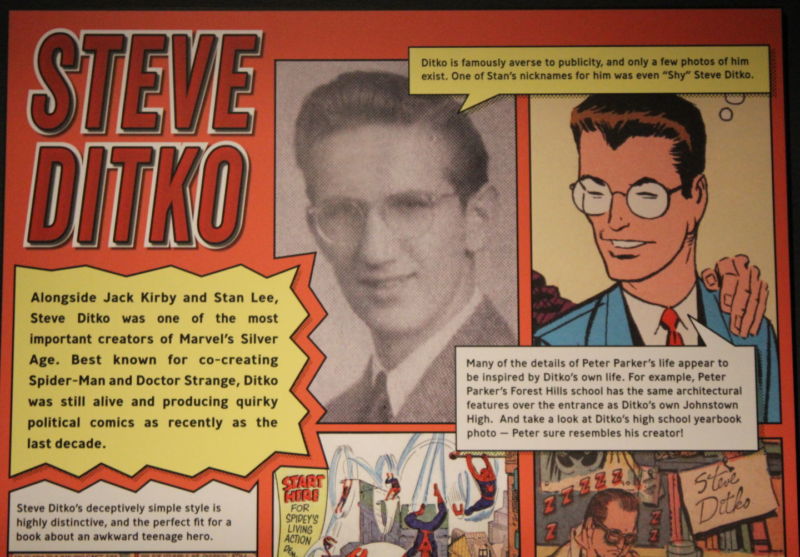 Yesterday comic book legend Steve Ditko passed away at 90 years old and with his passing, he leaves behind a legacy of impressive and unique characters who pushed the boundaries of comics and comic book storytelling. With an remarkable resume from both mainstream and independent companies alike, Ditko spent much of his later years as "the J.D. Salinger of comics" who rarely made appearances but kept his Manhattan studio where he continued to write and draw up until his death. Many creators have attributed Ditko's work and style as an inspiration and honestly, the comic book industry would not be where it is today without him.

It was his father who inspired his love of comics and Steve Ditko grew up reading such comics as Prince Valiant, Batman and the Spirit before enlisting in the army where he contributed artwork for a military paper in post-war Germany. After he was discharged, he moved in New York in the 1950s and studied under legendary Batman artist Jerry Robinson in the Cartoonist and Illustrator School (later known as the School of Visual Arts). Robinson would remark being very impressed with Steve's work ethic and dedication and it was there that editor of Atlas Comics Stan Lee, who was a guest speaker for Robinson's class, was first introduced to Ditko's work. Ditko's early work would be as an inker in Joe Simon and Jack Kirby's studio alongside artist Mort Meskin, the beginning of his longstanding relationship with Charlton Comics, but it was his work at Atlas Comics later known as Marvel Comics that would lead to greatness. His work Journey of Mystery, Tales of Suspense, and Tales to Astonish were great but his work in Amazing Adventures marked the first in his collaborations with Stan Lee. These small collaborations would lay down the groundwork for what would be known as the "Marvel Method" of comic book storytelling where Lee would give details of the plot and then Ditko would do the rest.

In the early 1960s, Ditko was approached by Stan Lee about a new kind of superhero he was working on called Spider-Man. Ditko worked on the costume, the motif and small details involving the character who debuted in Amazing Fantasy #15 and history was made. Originally stating that he would continue to draw Spider-Man "if nothing better comes along", Lee and Ditko created many of Spider-Man's most iconic adversaries including Doctor Octopus, Mysterio, the Lizard, Electro and the infamous Green Goblin. Ditko eventually would demand plot credit for his work performed under the Marvel method and was granted this, a notable achievement considering the difficulty many early comic book artists had asserting ownership for characters they helped create for major companies years later. During his run on Amazing Spider-Man, his work on Issue #33 contained a single page depicting one of the most iconic images in Spider-Man history
and he would find a near equal amount of success in his next collaboration with Stan Lee, the Sorcerer Supreme known as Doctor Strange in 1963. Ditko's mystical landscapes and elaborate, psychedelic visuals pushed his work to another level unseen by comics at that time as it was a favorite of college students and emphasized the mood and anxiety of the stories' characters. Although he would forever be remembered for the work he performed in those four years at Marvel, he left after a rumored dispute between him and Stan Lee and would not return until 1979.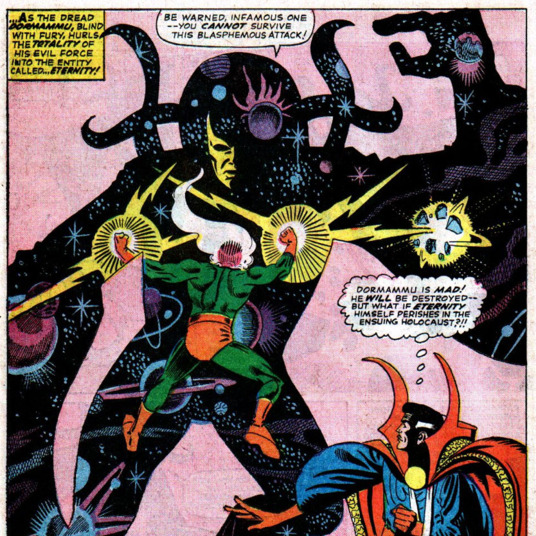 Over the next ten to twenty years, Ditko would work on a great number of characters in multiple companies. At Charlton Comics, he worked on Blue Beetle, the Question and Captain Atom, all three characters he had co-created in the 1960s. He worked for a short time at DC Comics, co-creating the eccentric vigilante The Creeper and the duo Hawk and Dove before leaving to work with Charlton Comics again until 1974.
When he returned to DC in 1975, he created Shade the Changing Man, created the fantasy series titled Stalker, revived the Creeper, worked on the Legion of Superheroes and co-created the Prince Gavyn Starman with Paul Levitz in 1980. After returning to Marvel, he worked on a few titles and created the young hero Speedball but for much of the 1980s and 1990s he would freelance with Marvel and other independent companies producing all matter of series and characters with mixed commercial reactions, one of his most successful series being Mr. A which was heavily inspired by Ayn Rand's philosophy about Objectivism . One of his last original characters for Marvel would be the loveable Squirrel Girl in 1992 but the kind of work Ditko was producing wasn't finding the market it once had and he retired in 1998.
In 2008, a New York Times article had this to say about Ditko and his career post retirement "By the '70s he was regarded as a slightly old-fashioned odd-ball; by the '80s he was a commercial has-been, picking up wretched work-for-hire gigs. … Ditko hacked out moneymaking work, saving his care for the crabbed Objectivist screeds he published with tiny presses. And boy, could Ditko hack: seeing samples of his Transformers coloring book and his Big Boy comic is like hearing Orson Welles sell frozen peas."

Despite retiring from mainstream comics, Steve Ditko continued to write and draw with most of his solo work published intermittently by Robin Snyder who had been his editor at Charlton, Archie Comics, and other companies in the 1980s. Collections of his work were occasionally published throughout the early 2000s while he claimed to maintain a tense relationship with Marvel regarding compensation for the characters he created being used in film and television. He continued to work in the Midtown West neighborhood and usually declined to do interviews or make public appearances up until his death this year, claiming "When I do a job, it's not my personality that I'm offering the readers but my artwork. It's not what I'm like that counts; it's what I did and how well it was done. I produce a product, a comic art story. Steve Ditko is the brand name". Despite the rocky state of his career in his later years, comics and their storytelling could not have accomplished what they have without Steve Ditko's influence. His early artwork, no matter its date, continues to inspire future creators with its style and creativity and while I respect his desire for privacy and how he viewed his work, I wish fans such as myself could have gotten the opportunity to thank him in person for how much his work meant and inspired others. Thank you, Mr. Ditko and I hope you find the peace that you deserve.